Queen Spindle

Species

Hedgehog

Home Island

Gender

Female

Appearances
- Aspen.  -Queen Spindle
Queen Spindle was a beautiful hedgehog queen, the wife of King Brushen, and the mother of Prince Tumble. Her best friend was Lady Aspen.
Early life
Edit
Spindle grew up as a normal hedgehog. She lived close to the tower, around the Spring Gate. When she was about Urchin's age(Urchin and the Dancing Stars), she met Brushen. After a time, they got married, and after a number of years had a son, Prince Tumble.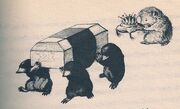 Queen Spindle first appears with her husband King Brushen. She is the mother of Prince Tumble.
When Prince Tumble is murdered, she is heartbroken with grief and becomes very ill. She is tended to by Lady Aspen and Gleaner along with the other tower maids.
During Captain Husk and Lady Aspen's wedding, she is looked after by Gleaner, who was dosing the queen unknowingly with poison which kills her by the end of the wedding. The last word she says is: "Aspen."  After that, she smiles to the king for the last time.
Her grave is outside the tower, beside her son. Granite took King Brushen to visit her grave often.
Husband: King Brushen
Son: Prince Tumble
Family Tree
Edit
Queen Spindle-------King Brushen
                |
            Prince Tumble